Potting Sheds
Wooden potting sheds for sale online with Free UK Delivery and Installation, including small potting sheds, lean to potting sheds, greenhouse potting sheds, and large potting sheds, from the Best potting shed brands in the UK Swallow and Clearview.
Perfect for when you can't quite decide between a greenhouse or a shed.
All Made from Treated Timber, with Free UK Delivery & Installation Included
Filter: Small | Large | Lean-to's | Victorian | 6ft x 4ft | Best Value | 6ft x 6ft | Glass Roof | 8ft x 6ft
One side of the potting shed is fully boarded like a shed with shelves for storing your tools and other garden and growing equipment, while the other side has glass windows like a greenhouse, with a length of staging down one side of the interior for all gardening tasks.
Square Potting Sheds | Painted Potting Sheds
Types of Potting Sheds
Shed Greenhouse Combo
We stock a range of shed greenhouse combinations with storage space on one side and greenhouse windows on the other for the ideal gardener's space. These are sometimes called a combi potting shed.
Shop all shed greenhouse combos here.
---
Lean-to Potting Shed
You will love the look of the slanted roof on your lean-to potting shed. Check out our lean-to potting sheds with slanted roofs and lots of storage space. While they aren't the same as a lean to greenhouse (in that they don't have an open back wall) they have a similar shape, and can be used up against a wall in the same way.
Shop lean to potting sheds here
---
Potting Shed with Storage
Discover our great range of potting sheds with storage.
---
Victorian Potting Sheds
Update your garden space with one of our beautiful Victorian potting sheds.
Shop all victorian potting sheds here
---
Greenhouse Potting Shed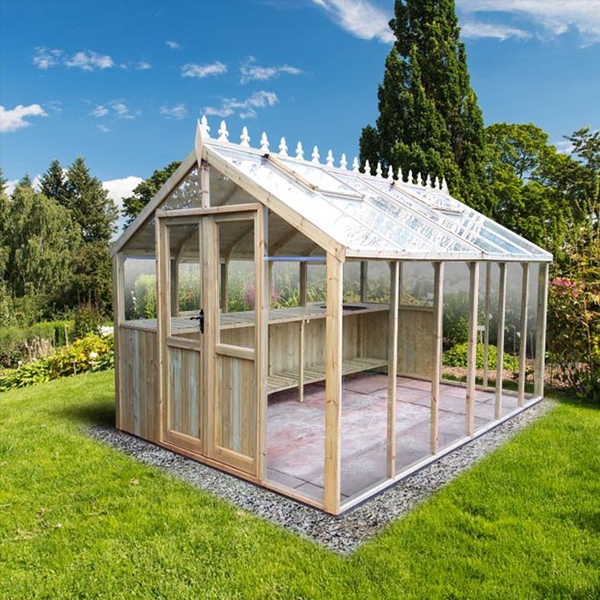 If you're looking to grow a lot of plants in your classic potting shed, and you want the extra light, then looking for a greenhouse potting shed combo is a great idea.
Our Clearview Cambridgeshire Potting Store range comes with glazing over a large proportion of the potting shed, bringin in lots of light that's perfect for growing plants.
The perfect choice if you prefer growing over storage.
---
Potting Shed Sizes
Small Potting Sheds
If you have a smaller outdoor space, we have an ideal small potting shed for you, perfect for storing tools and garden accessories.
Shop all small potting sheds here
---
Large Potting Sheds
If you need a little more storage space, we have larger potting sheds as well. Browse our range of functional and large potting sheds.
Shop all large potting sheds here
---
Mini Potting Sheds
If you think you don't have enough room to fit a garden building, we have the answer! We stock a range of mini potting sheds for very small outdoor spaces.
---
6x4 Potting Sheds
Build the perfect little 6x4 workshop for your plants to thrive all year long.
---
6x6 Potting Sheds
Enjoy the versatility of one of our 6ft x 6ft potting sheds.
---
8x6 Potting Sheds
Looking for the ideal spot for puttering and potting? Take a look at our range of 8ft x 6ft potting sheds.
Shop all 8x6 potting sheds here
---
10x8 Potting Sheds
More than just storage space, we have large potting sheds that will provide any gardener with lots of room for all of their potted seedlings, plants and tools.
We also stock corner potting sheds, and potting sheds with a glass roof.
---
Best Potting Sheds
Here we've listed the best potting sheds for the various popular types:
---
What is a potting shed?
A potting shed is a garden structure to provide a warm and dry place to sow seeds, pot seedlings, and deadhead or prune potted plants, on easy to reach potting benches. They often have 3 wooden walls, with one glazed wall facing south for extra sunlight. Learn more here
---
Glazing & Materials
Here is some more information about the materials that potting sheds are made from.
Materials
Treated Wooden Frames
All of the traditional garden potting sheds we stock are wooden. They come in both natural and painted finishes. This wood is treated to ensure it's very durable to adverse weather, helping to protect your potting shed and keep it strong for many years to come.
Fixings
All of our potting sheds use durable stainless steel fixings, to prevent any corrosion, such as the Clearview Oxfordshire range.
Glazing Materials
Our entire range has glazing options to customise them as you wish, see more details about each type below.
Toughened Glass
Toughened safety glass is one of the most popular choices for a greenhouse, as it provides that traditional look and clarity of the glass, with the toughened safety feature to ensure it's far safer in the case of an accident.
---
Horticultural Glass
If you want the cheapest glazing option, then choose a horticultural glass greenhouse. It has the downside of smashing into many dangerous pieces when damaged, so ensure you're careful.
---
Polycarbonate Glazing
Polycarbonate glazing is the safest glazing option you can choose. The clarity of the material is not as good as glass however, so you have to consider that as part of your decision. The glazing is also not recommended in exposed areas. Twin wall polycarbonate is the strongest type available. This is often popular for public places, allotments, or anywhere around children.
---
Accessories
For the vast majority of our range, you will have the option to customise your order and add accessories, and in some cases another sliding door.
Ventilation
The use of roof vents and ventilation in general is very important in a greenhouse. You have the option to add extra windows, louvre vents, and even auto vents to your order. These all help to control heat and airflow. You can also customise your greenhouse gutters.
Heating
For heating, we recommend you browse our greenhouse heaters here.
Shelving/Staging - Maximise Your Available Space
You can customise the shelving included in your greenhouse, to really make the most of the space you have, for the maximum growing space for plant pots, young plants, herbs, tomatoes, peppers, and other vegetables, and any more propagation.
---
Reviews
Checkout some of the latest reviews from our potting shed range:
"We are so delighted with our new potting shed. It is much more spacious than we had imagined and feels really well constructed and sturdy. The wood is beautiful and it has made our whole garden feel much nicer. Self opening windows are a great bonus, and the installation team were great. Excellent service, would highly recommend!"
"I chose this greenhouse / potting shed as it looked great. Delivery was a few weeks earlier than expected, and when it turned up I was not disappointed. The team arrived to erect it, they were excellent. Although this is potting shed is expensive this is the classic " you get what you pay for". I would highly recommend greenhouses from SWGREENHOUSES and highly recommend the Clearview Oxfordshire potting shed / greenhouse."
"The potting shed was delivered on the arranged date, and erected very efficiently. I am delighted with the design, quality, workmanship and functionality of this shed/greenhouse, which complements my existing greenhouse."
You can view all of our 2191 reviews here.
---
Resources
We've published some helpful guides to help you get to know your potting shed better.
Click the links to read more:
---
UK Delivery and Installation
We offer free delivery and installation on all potting sheds to UK mainland postcodes, with some exceptions of the Scottish Highlands and other hard to reach areas (which will require a custom quote). You can click into the individual product pages to learn more about delivery of each type. Visit a product page for more information on availability, free delivery area, affordability, and product lead-time.
---
Still Don't Know What to Choose? Contact the South West Greenhouses Sales Team!
We know shopping for a potting shed might be overwhelming, which is why our helpful team is always on hand to help you make an informed decision.
You can submit your question on our contact page form here, or email us at support@swgreenhouses.co.uk and even call us on 01225 710479.