One side of the potting shed is fully boarded like a shed with shelves for storing your tools and other garden and growing equipment, while the other side has glass windows like a greenhouse, with a length of staging down one side of the interior for all gardening tasks. You can skip to our top 5 potting sheds here.
Best Potting Sheds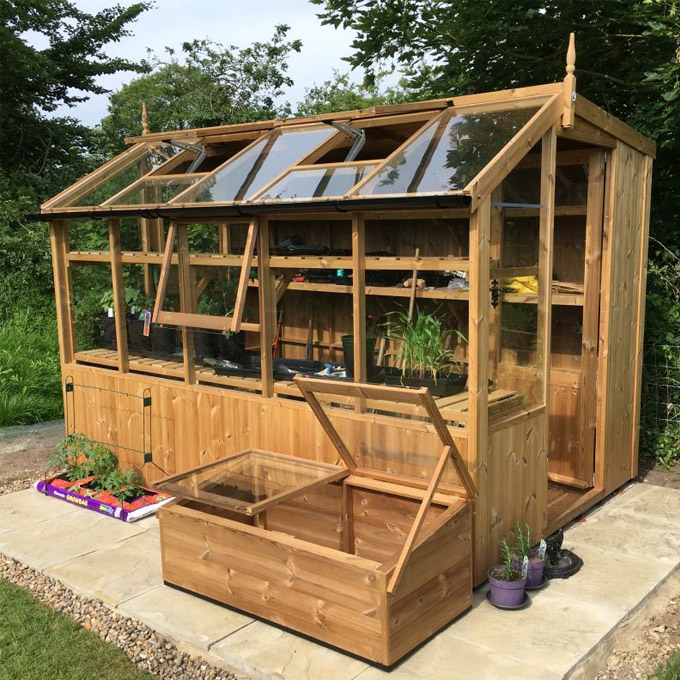 Here we've listed the best potting sheds for the various popular types:
Garden Potting Shed Materials and Glazing
Here is some more information about the materials that potting sheds are made from.
Main Frame Materials
Treated Wooden Frames
All of the traditional garden potting sheds we stock are wooden. They come in both natural and painted finishes. This wood is treated to ensure it's very durable to adverse weather, helping to protect your potting shed and keep it strong for many years to come.
Fixings
All of our potting sheds use durable stainless steel fixings, to prevent any corrosion, such as the Clearview Oxfordshire range.
Glazing Materials
All of our potting sheds come with toughened glass. This provides the best look in your garden, while also being very safe.
Potting Shed Greenhouse Combo - More Light
If you're looking to grow a lot of plants in your classic potting shed, and you want the extra light, then looking for a greenhouse potting shed combo is a great idea.
Our Clearview Cambridgeshire Potting Store range comes with glazing over a large proportion of the potting shed, bringin in lots of light that's perfect for growing plants.
The perfect choice if you prefer growing over storage.
Potting Shed Accessories
You can find shelves for our potting sheds in the staging section here, ventilation options here, and even heaters here.
Potting Shed Reviews
Checkout some of the latest reviews from our potting shed range:
"We are so delighted with our new potting shed. It is much more spacious than we had imagined and feels really well constructed and sturdy. The wood is beautiful and it has made our whole garden feel much nicer. Self opening windows are a great bonus, and the installation team were great. Excellent service, would highly recommend!"
"I chose this greenhouse / potting shed as it looked great. Delivery was a few weeks earlier than expected, and when it turned up I was not disappointed. The team arrived to erect it, they were excellent. Although this is potting shed is expensive this is the classic " you get what you pay for". I would highly recommend greenhouses from SWGREENHOUSES and highly recommend the Clearview Oxfordshire potting shed / greenhouse."
"The potting shed was delivered on the arranged date, and erected very efficiently. I am delighted with the design, quality, workmanship and functionality of this shed/greenhouse, which complements my existing greenhouse."
You can view all of our 2191 reviews here.
Potting Shed Resources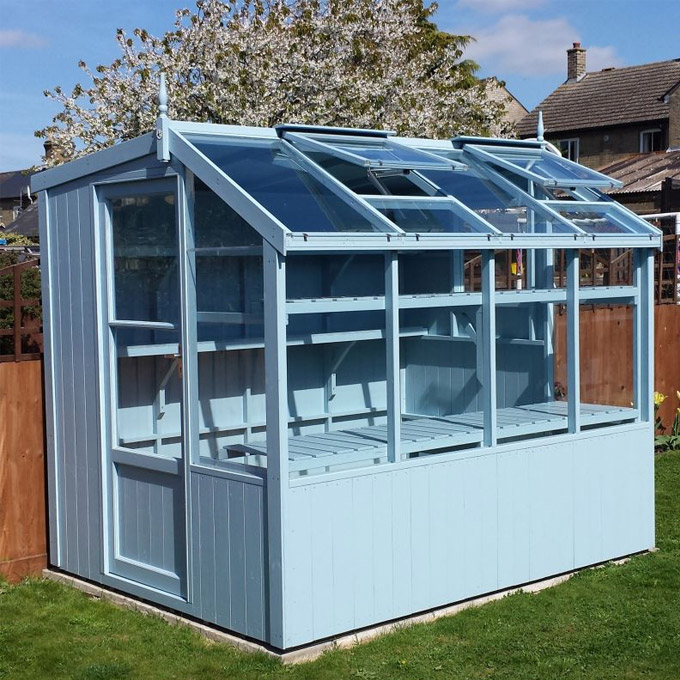 We've published some helpful guides to help you get to know your potting shed better.
Click the links to read more:
Still Don't Know What to Choose? Contact the South West Greenhouses Sales Team!
We know shopping for a potting shed might be overwhelming, which is why our helpful team is always on hand to help you make an informed decision.
You can submit your question on our contact page form here, or email us at support@swgreenhouses.co.uk and even call us on 01225 710479.
The best place for garden storage, wooden sheds, and garden shed greenhouses.