Best Mini Greenhouses UK 2022
Wednesday, 27 July 2022 | Matt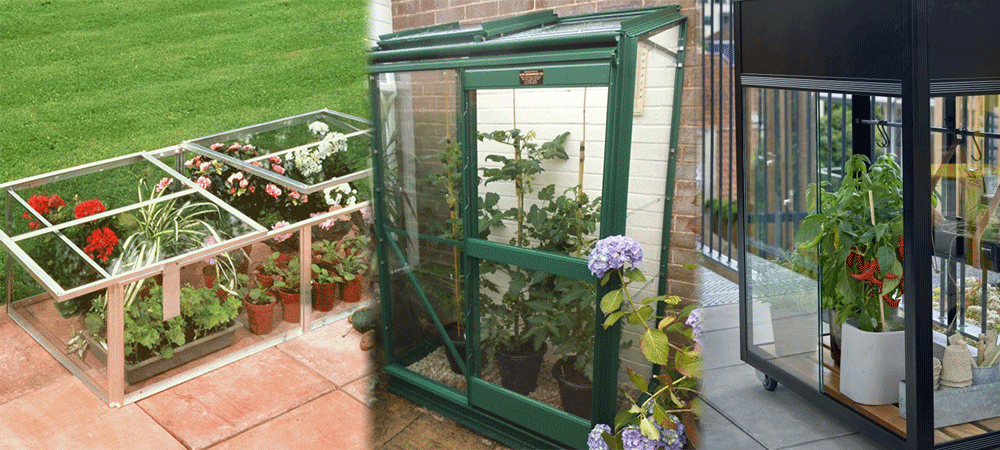 Looking for a mini greenhouse?
In this post, we'll go over our top picks for the best mini greenhouse in 2022, as well as how to choose.
Want to skip to the best products? Click here
How to Choose a Mini Greenhouse
Many people purchase smaller greenhouses because they don't have enough capacity for a full-sized one.
By early spring your mini greenhouse should be home to seedlings and small plants that are ready to be transplanted. Once they have made their way out, tomatoes and peppers can be brought in, as can cucumbers. In September, you can start planting things like spinach and lettuce. If temperatures fall too low, you can always use a small heater.
A mini greenhouse can change the way you view gardening for the better and allow you to manage plants, flowers and seedlings throughout the whole year. To get as many sunlight hours as possible, you can move your mini greenhouse around at various points during the year.
Shape and size
Another reason for buying a mini greenhouse is that some people don't have gardens. Mini greenhouses come in various forms. They can be short and wide or tall and narrow. Options with various numbers of shelves and tiers are available. It's wise to find out what the measurements for the mini greenhouse you want to buy are before you make a purchase. Ensure there is enough room for you to access the greenhouse and move around it. Mini greenhouses are ideal for many people who don't have large gardens but do have small yards or balconies. Think very carefully about how the sunlight will get to your plants before you proceed with the purchase.
What kinds of materials are used to build mini greenhouses?
Mini greenhouses can be built from various materials. Options include wooden frames with polycarbonate glazing, metal frames and aluminium frames with safety glass. Full glass models are also available. Although mini greenhouses with aluminium frames are available, these will cost you slightly more than ones with wooden frames. As wooden models are particularly sturdy and strong, these don't tend to be as vulnerable to strong winds as ones with metal frames. You may also find that ones with wooden frames can get rather humid and hot if you don't leave the doors open. Mini greenhouses made from tubular metal with plastic covers are highly affordable. They aren't the most reliable available but they may still meet your needs if you require something that's easy to move around.
Related:
Pre-treated timber
Are you thinking about buying a wooden mini greenhouse? If so, find out whether the wood is pre-treated. If it hasn't been, you'll need to buy wood stain, exterior varnish or wood preservative. Teak oil also works. Once you have added this, the wood will have a special coating so it can overcome the battle against rot.
Assembling your mini greenhouse
Some mini greenhouses are easier to assemble than others. Things that might influence the complexity of constructing your greenhouse include how simple the instructions are to comprehend, whether the predrilled holes align well and how easy it is to apply the screws. It's a good idea to read online reviews of a greenhouse before you proceed with a purchase so you can find out how easy or difficult it is to construct it.
Shelf capacity
You'll need to find out what the size and dimensions of your shelves are as well as the maximum amount of weight they can handle. A mini greenhouse shelf should be able to hold at least 10kg. When it comes to the maximum stated load, it's best to go slightly underneath this to play things safe.
Best Mini Greenhouss 2022
Here we go over the best mini greenhouses by type and style:
Best Cold Frame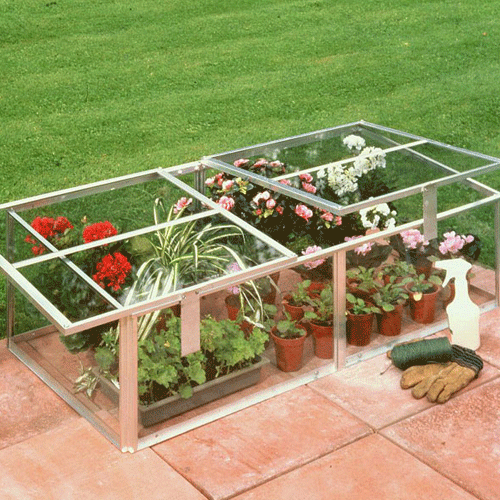 Winner: Halls 4x2 Cold Frame
Pros:
Toughened glass.
Convenient small footprint.
Grow plants and seedlings on the patio or balcony.
Sturdy aluminium frame.
2 sliding and hinged lids.
Free delivery.
Best Narrow Mini Greenhouse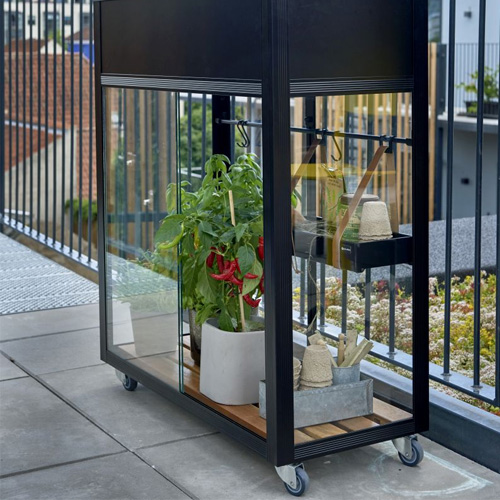 Winner: Juliana Vertical Greenhouse
Pros:
Toughened glass.
Built in cedar board shelves.
Wheels for convenience.
Perfect for the balcony.
Free delivery.
Best Mini Lean to Greenhouse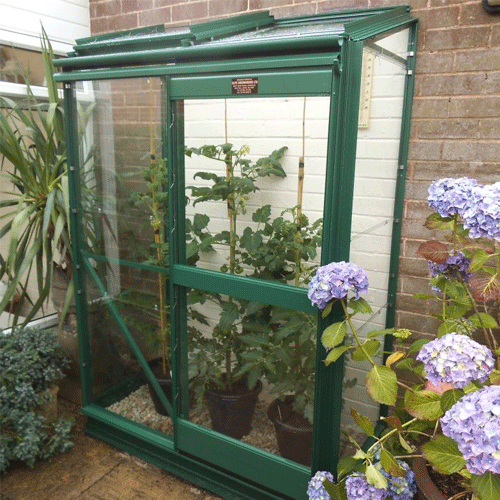 Winner: 2x4 Elite Easygrow Lean To Greenhouse
Pros:
Available in multiple colours.
Perfect for growing in a small area.
Low ridge height to match smaller structures.
Generous sliding door.
High quality construction.
Free delivery.
Best Small Traditional Greenhouse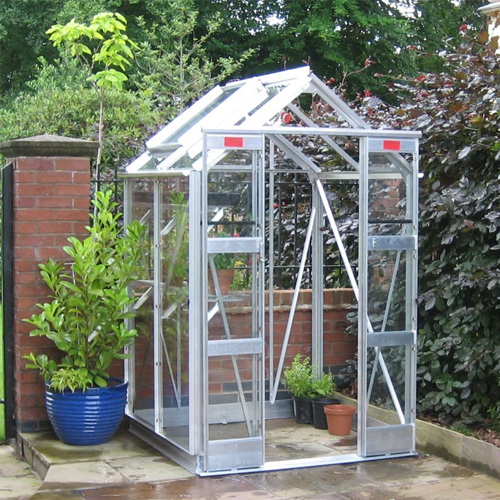 Winner: 4ft Wide Elite Compact Greenhouse
Pros:
Compact growing area.
Tall but narrow greenhouse.
Low door threshold.
Choice of glazing.
High build quality.
Free delivery.
FAQs
For how much of the year can I use my mini greenhouse?
Using a mini greenhouse allows you to extend the growing season. If you plan things very carefully, you might be able to use it twelve months a year. You'll need to start seeds and small seedlings off in your greenhouse in the spring as the temperature will be too low to plant anything outside of it. When your seedlings have been transplanted outside in the summer, you'll have enough space inside your mini greenhouse for crops that often require protection. These can include cucumbers, pepper and tomatoes.
Geranium and flower cuttings can be taken in the autumn and placed inside your greenhouse so you can start preparing plants for the following year. Lettuce can also be sowed so you can maintain your salad green crop in the winter. Delicate plants can be overwintered inside your greenhouse during the winter. Your winter and spring bulbs can also be started for the purposes of early-year colour.
Can I position my mini greenhouse against a wall?
It is possible to place your mini greenhouse against a wall. Just remember that the wall will retain heat and send it to the interior of your greenhouse. A lean-to greenhouse may be your best option if you want to keep your greenhouse against your wall. These greenhouses don't have back walls – they are designed to fit against either your garden wall or an outside wall that's part of your house. In the daytime, the wall will absorb warmth before radiating it out at night so the interior of your greenhouse is heated up.
What are the key items I need to use inside my mini greenhouse?
It's essential to have an accurate thermometer inside your mini greenhouse so you can tell what the interior temperature is. If your greenhouse is likely to become too hot, you'll need a way to cool it down quickly. Sun shades and fans are effective and will give you a greater level of temperature control that's better than simply opening the door. You'll also require a way to heat the greenhouse if it gets too cold. The best thing to purchase is arguably a heater that's been specifically designed for use in a greenhouse.
If you're wondering why we didn't talk about watering systems above, this is because mini greenhouses are normally too small for irrigation systems and watering cans are normally sufficient. We didn't mention shelves as these normally come as part of the greenhouse itself.
Conclusion
We hope you enjoyed our post on the best mini greenhouses.
If you need any more help choosing your greenhouse, then contact South West Greenhouses and we'll be happy to help you.
Related reading: