Best Greenhouses UK (2023): How to Choose & The Best Brands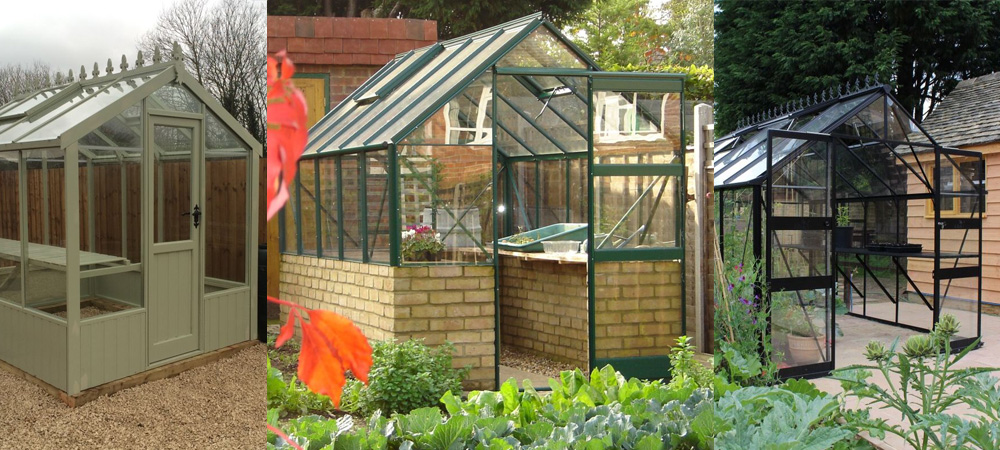 If you're a true gardener, you know that a greenhouse is essential for sowing seeds, taking cuttings, and taking care of your young plants in harsh winter weather.
Whether you want to grow your own vegetables like tomatoes, or plant a beautiful collection of pansies, you'll need a good greenhouses kit to get started.
Here in the United Kingdom, there is a wide range of different brands you could choose from, as well as a diverse selection of types and sizes.
So in this article, we'll talk you through how to choose the best greenhouse for gardening in 2023, as well as some options for each type or brand.
Best Greenhouses UK for 2023
Here are the best greenhouse options for each of the main categories.
We've categorised them into these sections (click/tap the links or scroll down to them):
If you're unsure about anything, or you want a recommendation that's not on this list, simply email us at support@swgreenhouses.co.uk
Best All-Round Greenhouse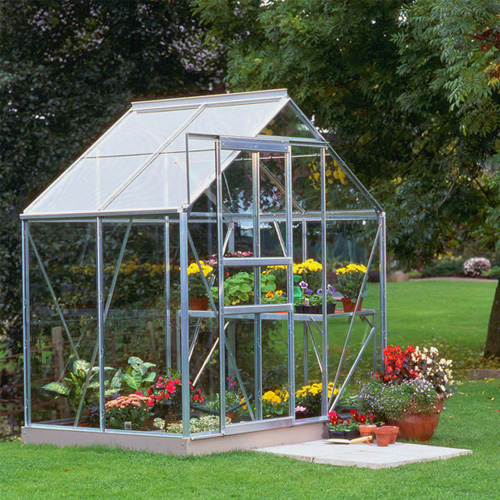 The best all-round greenhouse for most households will be the Halls Popular.
It's an aluminium 6ft wide greenhouse that's well priced, available in multiple lengths, and has consistently achieved good reviews. It's available in either a silver or green finish.
Another great option is the 6ft wide Elite Craftsman, which has a lockable sliding door and strong bars:
Best Small Budget Greenhouse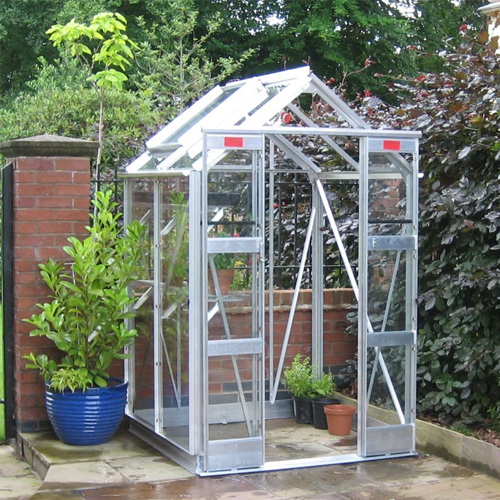 The best budget greenhouse is the aluminium 4ft Wide Elite Compact Greenhouse.
It has tall eaves, giving you a comfortable growing environment for such a narrow greenhouse.
It's also a fantastic price.
Best Mini Greenhouse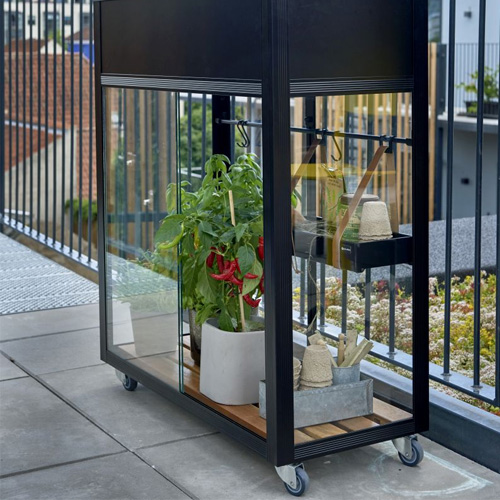 The best mini greenhouse is the versatile Juliana Vertical Greenhouse.
The tiered shelving approach means you can grow both medium sized and small plants at the same time.
It's ideal for a balcony or small patio area, and comes in an attractive black aluminium finish, with cedar wood internal shelves.
Best Large Greenhouse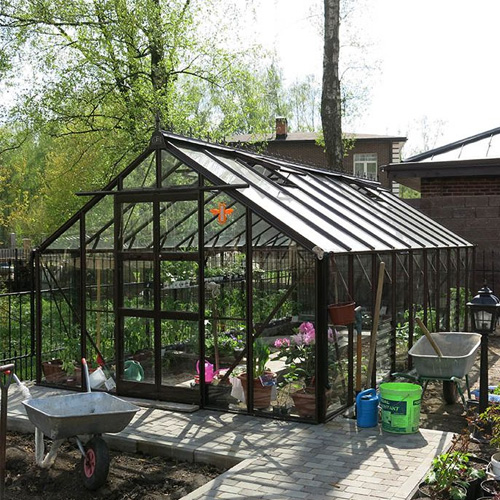 The best large greenhouse is the 10ft Elite Titan aluminium greenhouse.
This greenhouse has cantilever bracing on each bar, to give it exceptionally strong build quality to withstand extreme weather.
It comes with 4mm toughened glass and a high door opening.
Best Lean to Greenhouse
Best aluminium lean to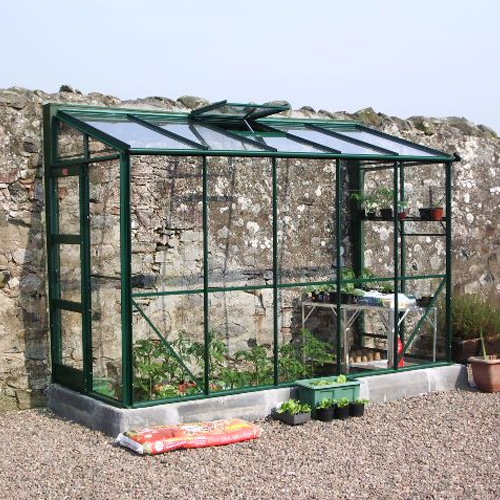 The best aluminium lean to greenhouse is the 4ft Wide Elite Kensington Lean to Greenhouse.
These greenhouses are 4ft away from the wall, and available in multiple lengths.
They have a roof vent, and a choice of glazing options.
Best wooden lean to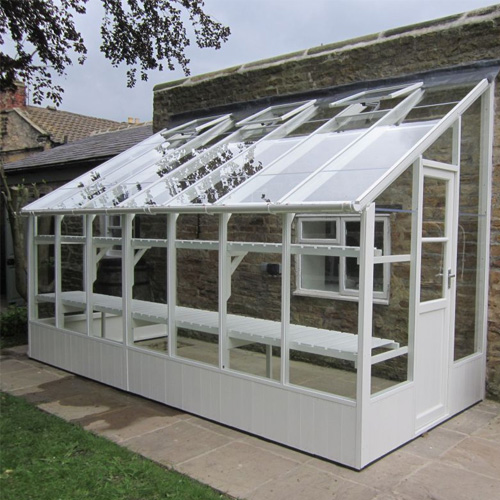 The best wooden lean to greenhouse is the Swallow Lean To range.
These 6ft wide lean to greenhouses come with toughened glass, and lockable aluminium door handles.
Available in a range of different colours.
Best Dwarf Wall Greenhouse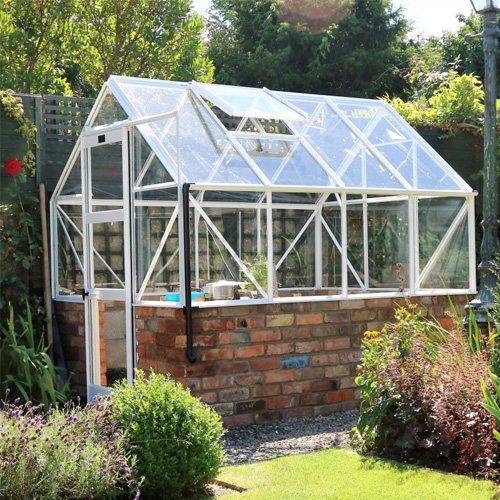 The best dwarf wall greenhouse is the 6ft Wide Elite Featured Dwarf Wall Greenhouse.
These attractive greenhouses come in a range of lengths, with roof vents, integral gutters, and a tall sliding door.
Best Wooden Greenhouse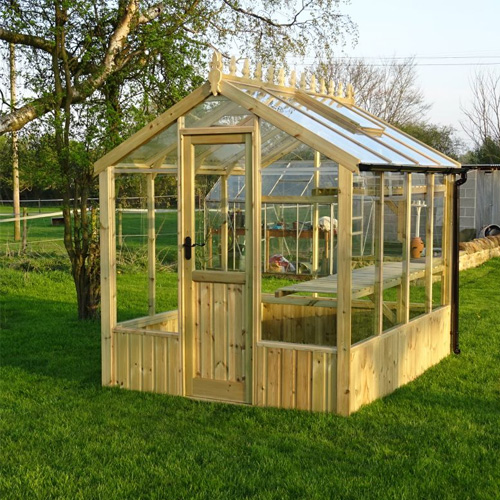 The best wooden greenhouse is the Clearview 6ft Wide Wiltshire Greenhouse.
This greenhouse comes in a huge range of lengths, meaning it will likely suit the majority of gardeners.
They're also very affordable for a wooden greenhouse.
Best Victorian Greenhouse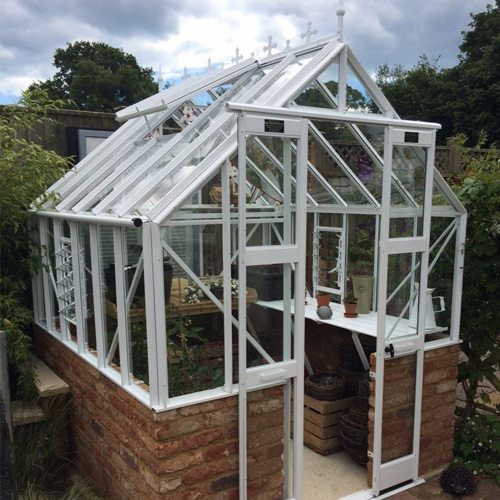 The best victorian style greenhouse is the 6x6 Elite Thyme Dwarf Wall greenhouse.
It's available in 6 attractive colours, with non-trip easy access doors, and cantilever bar bracing.
If you prefer a non-dwarf wall option, then you can browse some great victorian greenhouses here.
Greenhouse Location - Choose the Size & Shape
Where you want your greenhouse to be located will likely control what size and shape of greenhouse you will choose.
If you have lots of space to work with, then it's not so much of a problem, but if you're working with a tight space, you need to choose a type that's appropriate.
You can usually find a size of greenhouse to fit any space, which means it tends to come down to the shape of the greenhouse.
Greenhouse Location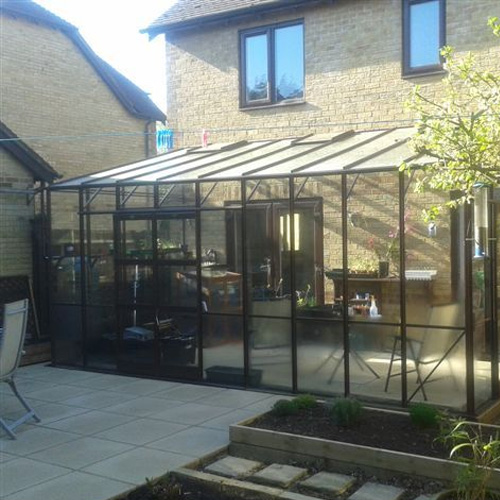 You want your plants to receive the most amount of sun possible, so your greenhouse should be located in a sunny spot in the garden.
If you have a south facing garden, you'll have a greater range of sunny spots than a north facing garden.
This is particularly important in the winter, where there is a much shorter amount of daylight.
There are also other things to consider when choosing your greenhouse location:
Water and Electrical supply - you'll need to water your plants regularly, and may need to heat the greenhouse in the winter.
Level Foundations - you want your greenhouse to be on level ground, so you need to consider the extra work involved to level your choice of spot.
Appearance - if your greenhouse is going to ruin your favourite view, you should consider this while choosing the location.
Potential Damage - greenhouses can be fragile, and vulnerable to falling tree branches, high winds, and potential vandalism, so choose a spot that mitigates these factors.
Next we'll talk about the most popular greenhouse shapes:
Shape 1: Freestanding Greenhouse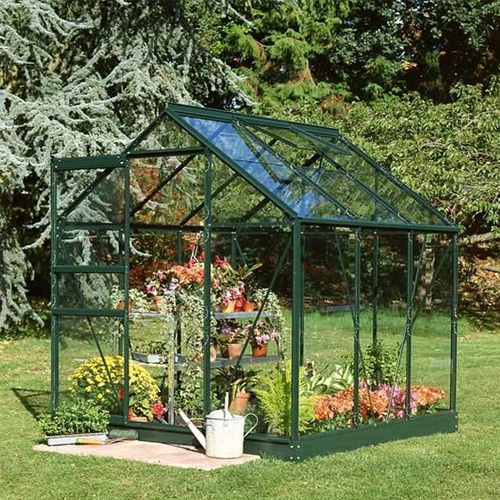 When you think of a greenhouse, you will likely be thinking of a freestanding greenhouse.
It will be a square or a rectangle depending on the length, and has a door at the front, with space inside for a potting bench and shelving.
It's definitely the most popular type of greenhouse, as it provides even space to work with.
Shape 2: Lean to Greenhouse

A lean to greenhouse looks like half a freestanding greenhouse leant up against a wall.
It only has 3 sides, and is designed for when you have a narrow space to work with, such as down the side of a house.
Shape 3: Cold Frame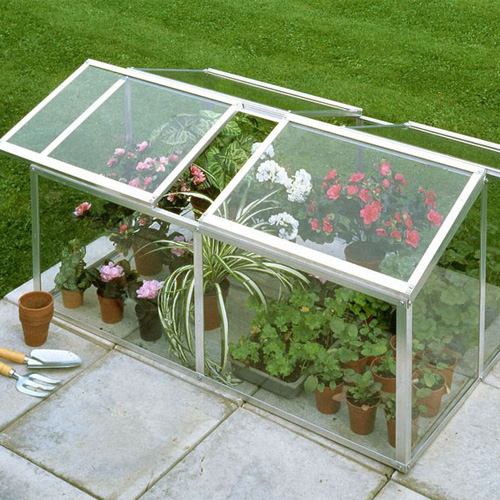 A cold frame is a mini greenhouse designed for a small space on a patio or balcony area.
They tend to be square or rectangular, and offer a small place to keep young plants protected from cold weather.
They are often the cheapest type of greenhouse.
Shape 4: T-Shaped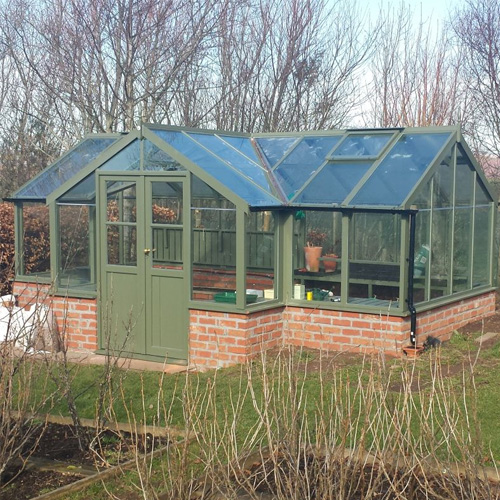 T-Shaped greenhouses are particularly useful when you want a large rectangular greenhouse but prefer the look or convenience of a central double door.
While less popular, they are very convenient in the right circumstances, and look rather nice.
Other Shapes
While rarer, some brands have started to manufacture hexagonal and octagonal greenhouses, which are particularly appealing for slabbed areas at the centre of a garden that match those shapes.
The main issue with these shapes is that you'll likely be restricted to a smaller variation in sizes, meaning you may not get the size appropriate for your space, or have to settle with a compromise.
There are also low-height eave shaped greenhouses, where the pitch of the roof is much less extreme, designed for when you have restricted height.
Greenhouse Sizing & Measurements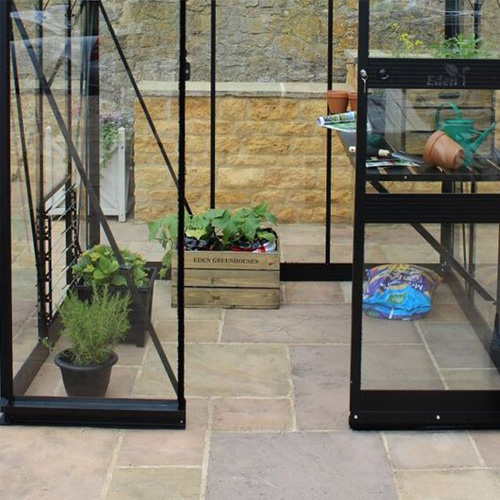 The main thing to consider about the greenhouse size is to make sure it's slightly smaller than the location you've chosen to place it.
So fully measure your space, and choose a greenhouse that gives you some access around the sides.
This is both better for general cleaning and maintenance, as well as looking better than a squished in greenhouse.
Greenhouses tend to go up in two-foot increments (eg 4', 6', etc.) so choose the width that's closest to your space size (leaving some extra room as stated above).
All brands stock a range of small, medium, and large sized greenhouses. You'll usually be able to buy anything from 4ft wide to 8ft, and even larger such as 10ft or 14ft wide greenhouses.
Greenhouse Styles & Materials
Now you've decided on the location, size, and shape of your greenhouse, it's time to choose the style and material.
Greenhouse Materials
There are two types of materials available, which I'll explain below:
Material 1: Aluminium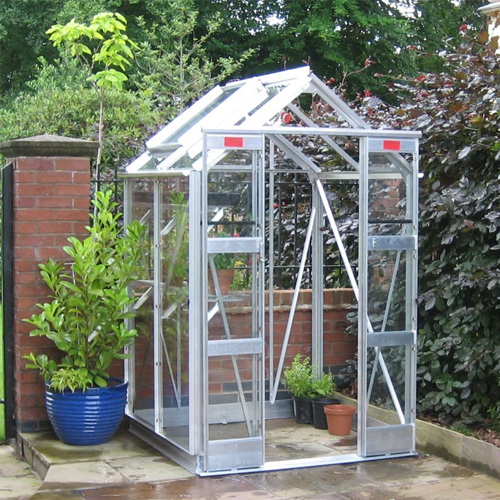 Aluminium greenhouses are the most common, and they have a lot of benefits:
Cheaper - aluminium framed greenhouses are cheaper than wooden greenhouses.
Lightweight - aluminium is lighter than wood, so it's easier to move around.
Thinner uprights - aluminium greenhouses have thinner uprights, so they aren't as obtrusive.
They are usually available in some colour finishes, but tend not to have as many colour options as wooden greenhouses.
Material 2: Wooden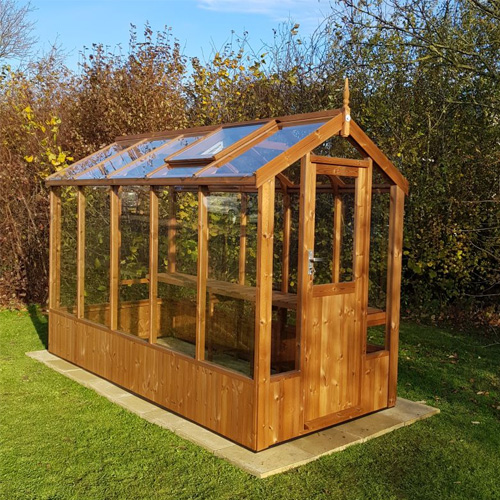 Wooden greenhouses are very popular for a number of reasons:
Traditional - they are much more traditional in appearance than aluminium, and fit in nicely into a natural setting.
Colours - you will often find a much more diverse range of colour options for wooden greenhouses.
Heavy duty - they're less likely to be blown over or damaged by high winds because they're much heavier.
The main downside to wooden greenhouses is that they cost more than aluminium.
Are greenhouses weatherproof?
Yes greenhouses are designed to be left outside in all weather conditions, and so they're specifically treated to ensure they're weatherproof.
Aluminium as a material cannot rust, and all wooden greenhouses use treated wood to ensure they don't rot.
Greenhouse Glazing
You will usually get the option to choose the type of glazing panels in your greenhouse.
Not all greenhouses are made from glass, there are three options to choose from:
Horticultural Glass - this is the cheapest type of glazing. It's made from glass, but shatters into dangerous shards when broken.
Polycarbonate Panels - this is the safest type of glazing, as the plastic doesn't shard and it's very lightweight. However, it's not completely transparent. Greenhouses using this glazing are known as polycarbonate greenhouses.
Toughened Safety Glass - this is by far the most popular type of greenhouse glazing, as it has the benefits of glass, but it breaks into tiny pieces when broken, making it far safer.
Greenhouse Accessories
You may wish to add accessories to your greenhouse to make your growing tasks easier.
Some of the more popular accessories include:
Ventilation (including auto vents)
Shelving/staging
Additional doors
Guttering
Side vents
Extra windows
Other Greenhouse Styles
If you don't want to opt for a traditional greenhouse style, then you have a few options to choose from:
Style 1: Dwarf Wall Greenhouses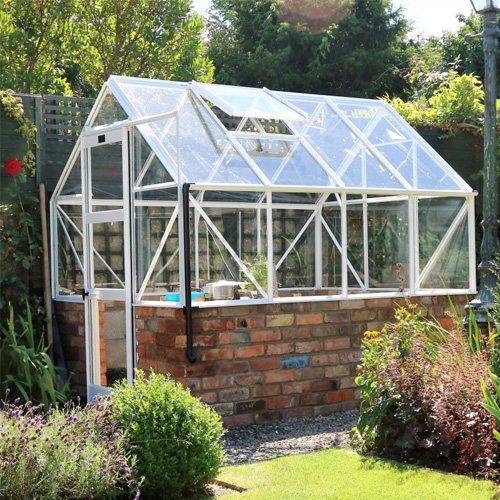 Dwarf wall greenhouses have a small wall running around the bottom half of the greenhouse, with a traditional aluminium top half.
They stop the greenhouse from looking overly dominant, which is often beneficial when you're choosing a particularly large greenhouse size.
They are also much more sturdy, as only half of the greenhouse is made from lightweight aluminium.
Style 2: Victorian Greenhouses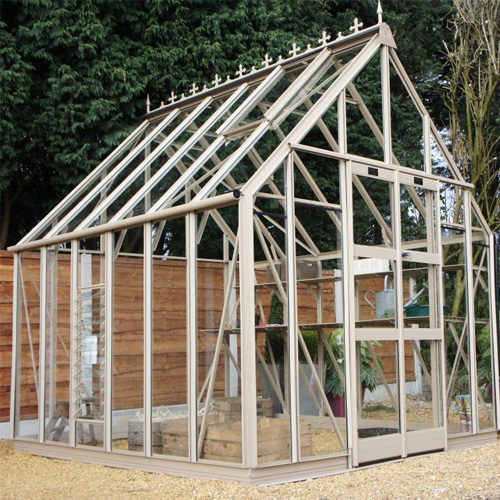 Victorian greenhouses are characterised by large glazing panels, small uprights, and tall eaves.
They look stunning, and they're also available in dwarf wall options.
Style 3: Potting Sheds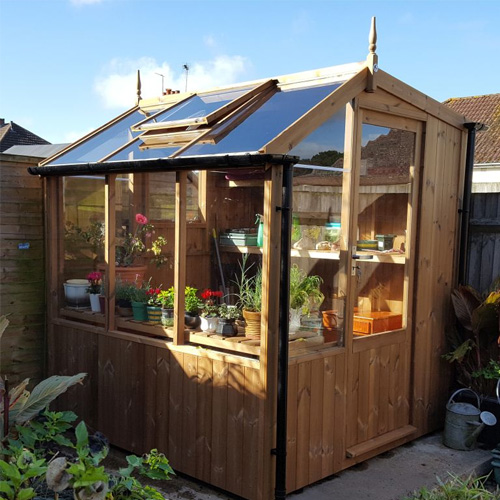 A potting shed is a combination greenhouse, where it has half of one side as a traditional wooden shed, and the other half as a glazed greenhouse.
These are ideal for those who want the best of both structures with one purchase, or have limited space where they have to choose between the two.
What are the best greenhouse brands?
The majority of greenhouse brands make good quality greenhouses, so it really comes down to the type and style of greenhouse that you like the best.
However here are our favourite greenhouse brands:
Need More Help?
If you need any more help choosing your greenhouse, then contact South West Greenhouses and we'll be happy to help you.