The benefits of aluminium greenhouses
Friday, 14 October 2016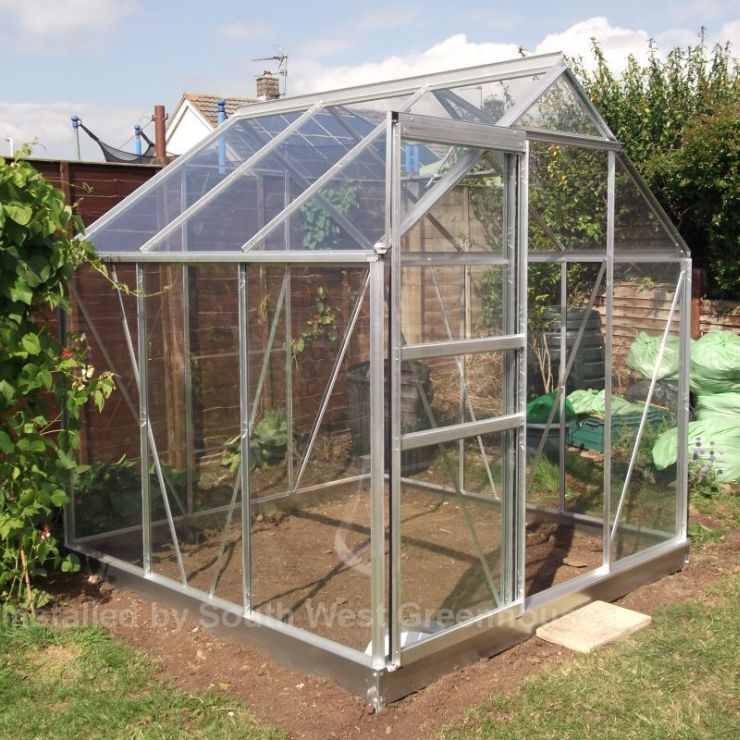 If you enjoy gardening, a greenhouse is an invaluable addition to your plot. It lets you nurture tender seedlings, experiment with plants suited to hotter climes, and extend the growing season. Yet choosing a greenhouse requires lots of consideration. As well as pondering over size requirements and where to locate it, you'll need to think about the type of frame.

Aluminium greenhouses have long been a popular choice amongst gardeners. Whether you're an occasional plant grower or a seasoned horticultural expert, an aluminium greenhouse holds enduring and universal appeal - and it's not hard to see why.

Cost-effective

Many gardeners are drawn to aluminium greenhouses as this is one of the most economical types of greenhouse to buy. Aluminium frames tend to cost up to a third less compared to wooden ones of the same size. Once the greenhouse has been assembled, it also requires little maintenance, further keeping the cost requirements down.

Easy to assemble

One of the standout features of an aluminium greenhouse is that it is relatively straightforward to assemble. Since aluminium is lightweight and easy to handle, the greenhouse can be put together as a flat pack kit. The frames usually come with pre-drilled holes for easy assembling, but as aluminium is a soft metal, it's not difficult to drill into, if necessary. Additionally, if you decide to move your greenhouse later on, it's easy to dismantle it and reposition it elsewhere with this type.

Visually appealing

Aluminium greenhouses are the classic choice of greenhouse, and, as such, they'll look the part in type or size of garden. They look attractive and stylish, and effectively manage to combine a traditional feel that is also contemporary. Many people think of aluminium as the standard, silver metal colour, but you can also have them powder coated in various colours.

Low-maintenance

If you're looking for a greenhouse that lets you get on with growing rather than concentrating on its upkeep, an aluminium greenhouse is a worthwhile choice. As one of the best, low-maintenance greenhouse options around, you don't need to do too much to keep it looking in tip-top condition. Cleaning the frames before and at the end of the season is recommended, however, to maintain their pristine condition, and to remove any pests or unwanted diseases that may harm your plants.

Durable

Once you've got your greenhouse assembled on your plot, you'll want to get great use out of it for a long time to come. Many people are swayed by choosing aluminium greenhouses because they enjoy excellent durability, and are probably the longest-lasting greenhouse you can buy.

Outdoor structures, such as greenhouses, are constantly up against the elements and, over time, the wind, rain and even the sun can affect the appearance of the frames, or even destroy them, if they aren't properly treated beforehand.

Wooden frames, for example, look attractive, but they are prone to rotting from damp weather, or warping from strong sunlight. Without treating the wood regularly, the greenhouse frames won't last. Plastic frames can also be degraded by sunlight, whilst steel frames can easily rust.

Aluminium is one of the best materials to withstand the harsh outside elements, and will not rot, rust or warp, and is non-toxic. Although exposure to light and moisture can make the appearance of aluminium fade over time and create a powdery exterior coating, this is more of a visual issue than a structural one. You can easily solve this by painting, or powder coating, the frames, which will further improve their durability.

Versatile

The advantage of choosing aluminium greenhouses is that, no matter what style of garden you're trying to emulate, this type of greenhouse blends in perfectly. Whether your garden is a formal affair, has a cottage-like feel, or is wild and natural, an aluminium greenhouse never looks out of place in any type of setting. It also works well in small gardens, or larger plots, and can be easily transported for use on an allotment, if allowed. Even if space is at a tight premium in your garden, you can find aluminium greenhouses of the lean-to variety that can sit against a wall.

With various sizes to choose from, you can always find the right greenhouse to suit your requirements. Should you wish to add an element of individuality to the greenhouse, powder coating the frames will add a unique, glossy and decorative finish. Additionally, aluminium greenhouses tend to have more accessories available than other types.

Crucially, the frames of an aluminium greenhouse are relatively thin, which prevents shadows from entering inside. This maximises light exposure to your plants, allowing the ideal conditions for helping them to grow.

If you would like to take advantage of the many benefits of an aluminium greenhouse, you'll find a great selection at South West Greenhouses. Call us today to find out more.