Internal vs External Shade for a Greenhouse
Monday, 28 March 2022 | Matt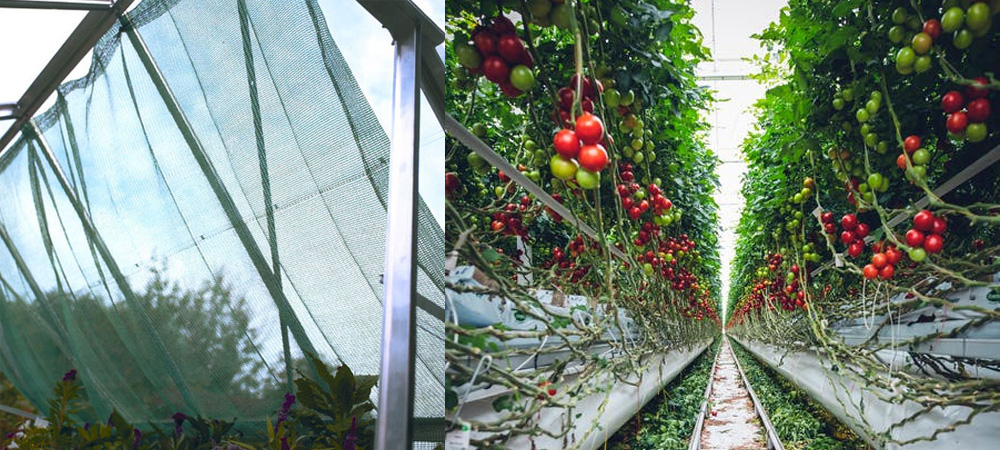 A greenhouse should provide an ideal environment for year-round cultivation. However, it is possible for your plants to become too hot or too cold at times. There are various choices for maintaining correct temperature, but shade cloths are an excellent choice.
These shades are inexpensive, effective, long-lasting, and simple to apply. They are an excellent choice for temperature control in your greenhouse. The key dilemma is whether shade cloths should be placed inside or outside the greenhouse.
There are a number of aspects to consider. Your decision will be influenced by the plants you are growing as well as the size of your greenhouse. You'll learn the benefits and drawbacks of both solutions below. This should help you decide which is best for you.
What are Internal Shade Cloths?
Internal shade cloths are, as the name implies, put on the inside. They are affixed to the greenhouse's ceiling and walls. They frequently employ a sliding mechanism, similar to curtains, that is fastened in the middle of the roof and subsequently on the side wall (shoulder).
A standard kit will normally contain several accessories, and depending on the size of the greenhouse, it may include many curtains.
You can shop all of our shading options here
Benefits of Internal Shade Cloths
1. Energy Efficiency
Radiant energy will enter your greenhouse through inside shade cloths. So the main advantage of placing shade cloths within your greenhouse is that it will save more energy than outdoor shade cloths.
2. Durability
Durability is another advantage of placing shade cloths within your construction. Your shade cloths will last considerably longer, and you won't have to worry about wind, dirt, rain, or other elements.
3. More Appealing
Many growers place their shade cloth inside since it is easier to maintain. It will not become dirty, and it appears much nicer on the inside than it does on the exterior.
4. Easily Adjustable
Internal shade cloths are frequently sectioned, allowing you to open and close them independently using a string or pulley. This is quite useful if you want to give some plants extra sunlight.
Disadvantages of Internal Shade Cloths
1. Difficult To Install
Interior shade cloths can be challenging to install and remove. You'll need extra attachments to keep them in place, but they are normally included with your package. They'll last a long time once they're set up.
2. Less Effective
Internal blinds only prevent sunlight from entering the greenhouse after it has passed through the glass. This indicates that the sun will eventually penetrate your greenhouse. Because the sun's rays enter through the greenhouse construction, you can't rely on it to keep them out of your building.
3. Doesn't Impact Internal Temperature
Having this type of shade fabric implies that your greenhouse's inside temperature will be greater than if it were outside. While dark interior shade cloths absorb solar energy and convert it to heat, light internal shade cloths merely reflect it rather than absorb it. However, because they are still inside the greenhouse, the impacts may be less pronounced than with exterior items.
4. Takes Up Valuable Room
Based on the products you pick, it may prevent you from installing other ceiling accessories such as irrigation systems and hangers. If you intend to utilise certain attachments, ensure that you can use them all at the same time.
External Shade Cloths
I'll describe what exterior shade cloths are despite the fact that it's probably self-evident. These items are attached to the ground after being erected over the top of the greenhouse. They frequently extend a few inches beyond the gutter/shoulder .
Pro tip: You may avoid one of the drawbacks by installing it with some space between the shade cloth and the greenhouse. To secure the shade cloth's corners, though, you'll need stakes or trees.
Benefits of External Shade Cloths
1. Keeps Greenhouse Cool
External shade cloths are useful in blocking sunlight and lowering greenhouse temperatures. If the primary purpose of the shade cloths is to minimise greenhouse heat, they should be installed on the outside. This will produce a cooling effect rather than the heating impact that internal shade cloths produce.
2. Blocks The Sun Effectively
Shade cloths laid on the greenhouse's outside prevent overheating and stop the sun's rays from reaching the greenhouse's glass. This maintains a consistent temperature in the greenhouse. This is why, during the summer months, an exterior shade cloth is an excellent solution.
3. Simple installation
Shade cloths are significantly easier to place outside. You may just buy them in bulk and distribute them throughout your construction. When installation, make sure they're securely fastened to the ground.
Disadvantages of External Shade Cloths
1. Easily Damaged By Weather
External shade cloths have one major disadvantage: they do not endure as long as inside shade cloths. They're exposed to the wind, sun bird, rain droppings, dirt, and leaf litter. No matter how high the quality of the material is, it will ultimately rip.
2. Can Impact Vents
Shade cloths used on the outside of greenhouses will decrease ventilation. Because it is snugly fitted over the greenhouse, you may be able to shut out the windows or vents. Make sure you can maintain good air circulation because it's critical for a healthy growth environment.
3. Less Visually Appealing
If you hang your shade cloth outside your greenhouse, it will appear messy. It'll resemble a tarp draped over your greenhouse. Even if you don't like the aesthetic, it's occasionally the best solution for your plants' health.
Some growers, on the other hand, take the effort to cut the shade cloths to provide openings for vents and windows; this is easier to accomplish with knitted textiles.
Internal Vs External
Internal and exterior shade cloths each serve a specific purpose. All you have to do now is figure out what your specific requirements are. Take into account your local weather. This is crucial when deciding on the best solution for maintaining the correct temperature for your plants.
Internal shade cloths are the ideal choice if maintaining the aesthetics of your greenhouse is important to you. When it comes to regulating the sun/shade in your greenhouse, these are the clear winners.
Installing shade cloths on the exterior, however, will work better if your main goal is to keep as much heat out as possible. If you're searching for a less expensive solution, they are the best choice. Instead of buying a kit, you may get them in a roll and style and cut them yourself. External shade cloths are an excellent choice for a grower who wants to lower the temperature of their greenhouse and minimise heat levels.
Conclusion and Further Reading
We hope you enjoy this guide on internal vs external greenhouse shading and found it useful.
Read some of our other related posts below:
You may also be interested in our greenhouse heaters.