How to Choose a Potting Bench
Tuesday, 10 May 2022 | Matt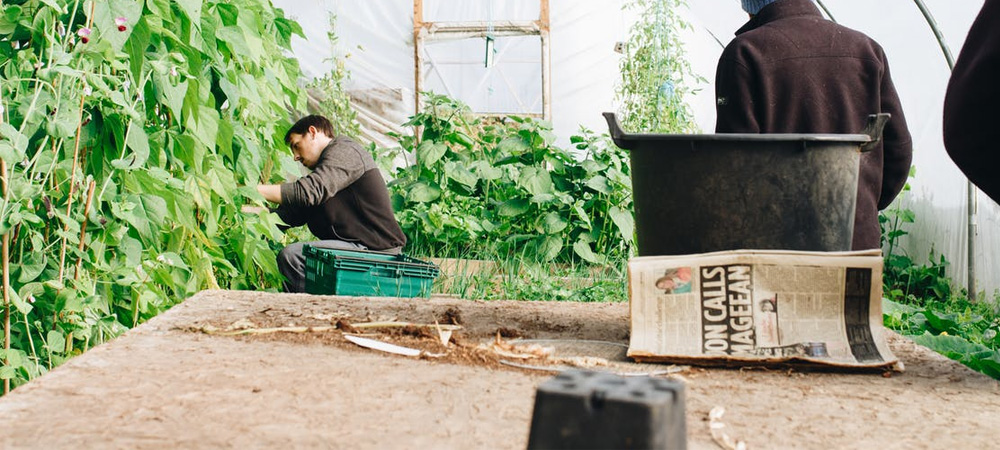 There are many things you need to think about when you're considering purchasing a potting bench. If you are a frequent gardener, your needs are likely to be very different to those of someone who re-pots a few plants every so often. No matter how regular you like to carry out gardening work, you shouldn't struggle to find something suitable thanks to the wide range of options that are available to you. Read on to learn more about how to choose the perfect potting bench for your specific requirements.
Bench Design and Usability
Are you looking for a bench that you can store pots, buckets, soil and hand tools in? If so, you might need to look for something that has several racks and perhaps a drawer or two. Some benches even have bars that will allow you to hang pruning shears, secateurs and other kinds of garden tools. Some benches have lattice-type backs that you can hang S-hooks on.
If you don't have a great deal of space, it may be wise to seek out a potting bench that will fold flat once you've finished using it. This means you can easily store them away in your garage or shed after your work is complete for the day. Some models also feature wheels so you can push them around easily when they have goods inside them. This can make life much simpler for those that want to move tools, fertiliser and seeds around their gardens.
What are potting benches made from?
Potting benches are made from various materials, which metal, plastic and wood being particularly popular options. It's advisable to think about the quality of the material rather than just what the potting bench looks like. Wood is a very popular option because it can blend in with other garden furniture perfectly and has a very natural look.
If you are considering purchasing a wooden potting bench, do ensure that the material has been treated or stained. Wooden benches that have been stained or treated tend to last much longer than those that don't. Even if your bench will be in your shed most of the time, it can still be affected by high and low temperatures when it is in use. This is why it's so common for people to look for benches that are made from galvanised materials and tough, hard plastics including uPVC and polypropylene.
What kind of working height should I look for?
Potting benches tend to be as high as a standard kitchen counter. 36 inches is a very common height. Some benches are height adjustable, and these could be ideal for you if you're too tall or short to use a 36-inch model that you can't adjust. When you adjust your model, you can find the perfect height for your needs so you can avoid straining your back or stooping. It may also be a good idea to seek out a potting bench that comes with castors. These can add around five extra inches to the height of your bench and make it easier to manoeuvre.
What kind of surface area should I look for?
The surface area you need can depend on various factors. These can include how much table space you require as well as how much space is available in your garden. If you're not worried about space, you may wish to opt for a particularly large potting bench or perhaps an extending table.
How much does a potting bench cost?
The price that you pay for a potting bench can depend on various factors. These include the size of the bench and the material that it's made from. Some benches will set you back just £10, though others come with triple-figure price tags. Before you choose your bench, think carefully about what you require and how long you think you'll be using it for.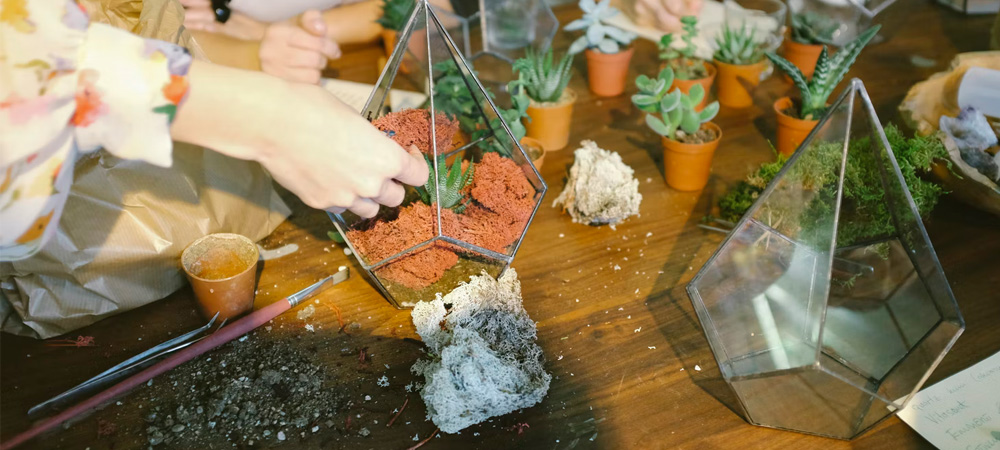 What kind of features should I look for?
There are various basic potting benches on the market. Many of these are simple potting tables that you can simply add a potting tray to. However, if you need something that will last for many years and offers a wide range of features, there are many more elaborate options available to you.
Potting bench drawers
Drawers can be incredibly useful when it comes to potting bench features. You can use them to store tools, gloves, seeds or string. Drawers are ideal for any gardening resources that need to stay cool and dry.
Utensil hooks and shelves
Hooks are great for hanging your gardening tools on. Many people hang garden trowels on hooks so they can dry them out. Shelves can also be very useful as they can help you prevent clutter.
Feet for potting benches
You may need to raise your bench from the ground so you can stop it from rusting or rotting. Some people do this by placing bricks underneath their potting bench, but you can also buy solutions that come with galvanised or plastic feet.
Wheels
Wheels can also be very handy due to the way they help you move your potting bench around. If your bench is heavy and doesn't come with wheels, you may be left frustrated when you need to get it from A to B.
Sinks
Sinks are very useful when it comes to potting benches. Being able to capture compost easily and place it in a compost bag can save you a great deal of time. Most of the sinks that are built into potting benches are detachable. Once you have taken them out of your bench, you can pour the excess compost in, clean and return them to their original location. Many potting bench sinks come with lids.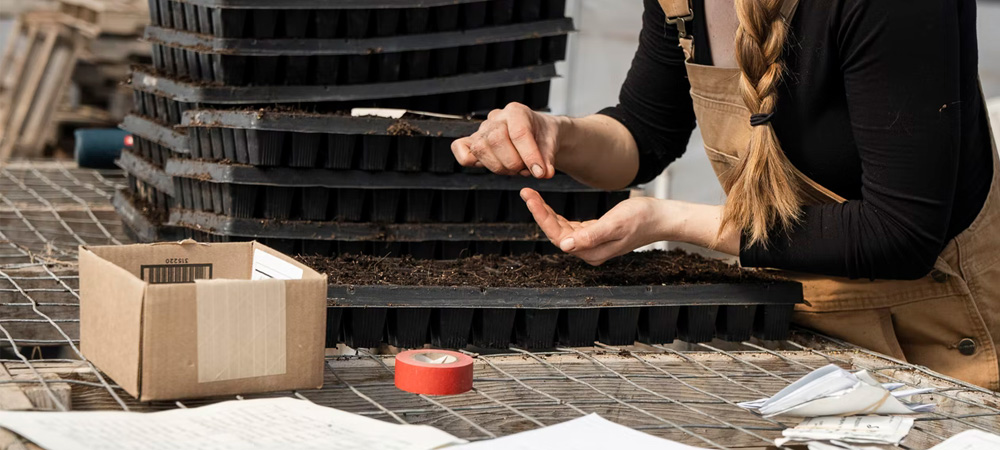 Maintaining your potting bench
Few people enjoy the cleaning process that comes with gardening. Metal and plastic potting benches tend to be much easier to clean as you can normally just hose them down. However, a wooden model may be more challenging due to the way that dirt and dust can stick to the surface. However, some models have in-built sinks that make the cleaning process simpler. You can also sweep any excess debris and dirt into the sink. Many of these sinks are detachable so you can empty them with ease when you need to.
Well-maintained garden tools and potting benches can last for many years before you need to think about replacing them. Make sure you wipe up spillages as you go and brush off compost to avoid rotting your wood if your bench is made from this material. If your wood does start to rot, your seedlings could be affected. It's also a very good idea to remove everything from your bench once a year so you can disinfect it.
If you do decide to purchase a wooden potting bench, we strongly recommend that you apply a stain or wood preserver to it on an annual basis at least. Make sure you always cover your bench up when you're not using it during wet or hot weather.
Potting bench FAQs
What are potting benches used for?
Potting benches are used to carry out a wide range of gardening activities. These include potting plants, repotting plants are storing garden equipment. They are also used for sowing seeds in pots and transplanting seedlings. You will usually put your potting bench in your greenhouse or a potting shed.
Where is the best place to store my potting bench?
You can keep your potting bench inside or outside. Popular places to keep potting benches during wet or hot weather include greenhouses, sheds and back porches. However, the vast majority of potting benches are designed with external storage in mind.
What are the best potting bench materials?
The vast majority of potting benches are manufactured from wood. However, metal has become an increasingly popular material over recent years. What's right for you can depend on what you think looks the best as well as your specific requirements and your budget.
How high are potting benches?
Standard potting benches tend to be 80cm to the working surface, which is approximately 11cm lower than a typical kitchen counter.
What is the most dependable wood for a potting bench?
Many wooden potting benches are manufactured from pressure-treated durable fir, cedar or fir. Although most benches are pre-treated to deliver longevity, consumers are also advised to repeat this at least once a year for longevity reasons.
Should I buy a potting bench with a sink?
Not everybody feels that they need to buy a potting bench with a sink. Sinks in potting benches are typically used to collect excess compost. Although sinks in these benches are not normally used for running water, you can use them for water-based activities if you need to. As the vast majority of sinks in potting benches are detachable, you can pour excess compost back into your compost bag.
Why should I consider buying a potting bench?
There are many great reasons why you should think about purchasing a potting bench if you do enjoy gardening. A potting bench can be highly efficient and look fantastic in your outdoor space too.
These benches can make your gardening duties much simpler. What's right for one gardener isn't always a great match for another, so personal preference can be a big factor when it comes to what makes a fantastic potting bench.
Some benches come with a host of storage shelves and hooks, some can be folded flat so you can easily store them off-season, and there are also small benches available that are perfect for compact spaces.
Related Reading
Here are some other guides you may be interested in: