What To Do In April
Sunday, 29 April 2018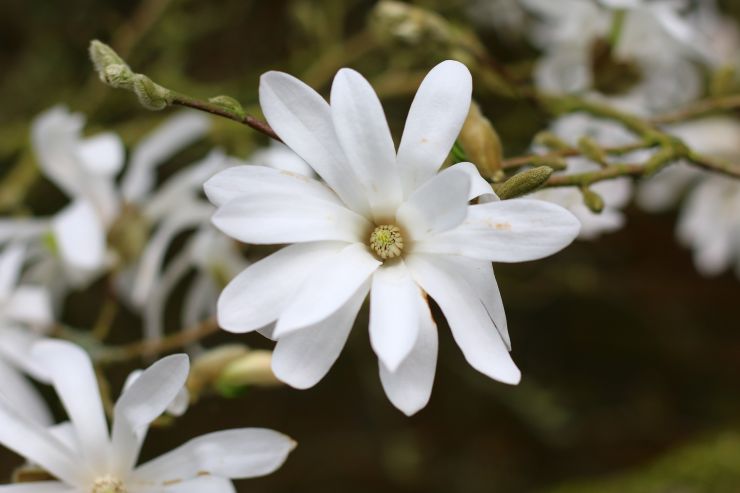 'The Flowers of Tomorrow are in the Seeds of Today'
An Indian Proverb made for April
In the gardening calendar, April denotes mid spring. April is a month of contradictions – wild and windy with April showers one day, sunny and warm like summer the next or a crazy mix of contrasting weather all on the same day, hour or even minute! It's prized for both endings and beginnings and this fourth month in the calendar is named for the Greek goddess of love, Aphrodite. In the Roman calendar, April was spelled Aprilis (meaning 'to open'). The festival of Parrilla fell in April, which was a day that celebrated the founding of Rome. So, all in all, April is an exciting month with lots going on. For 2018, Easter Day shares 1st April with April Fool's Day. The last time that happened was 1945. We might see lots of excited children waking up to an absence of Easter eggs, only to be met with the cry of April Fool's (or Poisson d'avril if you happen to be French)!
It's a month of rebirth and renewal, when the trees and flowers begin to burst into life. What an amazing month to make the most of the garden and make merry with an Easter egg hunt or marvel at the baby bunnies, scampering through the undergrowth.
Now that the weather is warming up, it's time to de-clutter the winter debris and look ahead to the sun-laden days of summer. Breathe in the fresh air and start to plan, sow and plant your summer-flowering plants for a brilliant display of colour and scent. Check out anything you planted back in the autumn and look after the new spring growth.
In the greenhouse, it's non-stop activity. Seedlings to be pricked out, hardened off and planted out into ready-prepared beds. There's no shortage of jobs as everything seems to happen at once. Pace yourself though and get around to everything in your own good time. Gardening should remain chilled and stress-free – we need this grounding activity to keep us sane and happy. Prioritise and plan and do the most urgent first.
Now that it's warming up, it's insulation off in the main and time to think about shading. Young plants can suffer from scorching, so set up some shady areas in the greenhouse to keep them happy and lush. The nights can still be chilly, so you could leave some insulation in place to counteract this. And keep an eye out for pests that like the juicy new growth of budding plants – aphids, whitefly and Vine weevil larvae are all around in April.
IN THE GREENHOUSE
Keep sowing greenhouse crops

Continue sowing and pricking out bedding plants (Cosmos, Petunia, Nicotiana)

Begin hardening off more advanced seedlings

Sow wallflowers in a nursery bed for flowers next spring

Sow herbs

Sow French beans and sweetcorn

Sow marrows, courgettes, outdoor pumpkins

Sow Savoy cabbage and kale

Start achimenes and

sinningias

into growth

Pot on ornamental plants making new growth as well as citrus

Give succulents and cacti a good soak to welcome in the spring after their long winter rest

Plant sweet potato slips in an unheated propagator

Sow melons and passionfruit for indoors

Plant rooted chrysanthemum cuttings, check your other cuttings and plant if required

Take cuttings of Dahlias. Shoots will soon grow, and these can be taken as basal cuttings.

As spring bulb leaves die down, dry off the bulbs and remove offsets to grow on.

AROUND THE GARDEN
Ornamental Garden
Prune early flowering shrubs like Forsythia and Chaenomeles once they've finished flowering

Buy water plants for ponds so they can establish roots as the water warms up

Feed roses with a special rose fertiliser

Plant Mediterranean shrubs like Cistus and Hebe

Plant summer-flowering bulbs and corms like Gladioli, Lilies,

Raniculus

, Dahlias and Begonias.

Renovate evergreen shrubs

Feed border plants – boost sturdy new growth by sprinkling the roots with a balanced feed

like

blood, fish and bone

Divide crowded perennial plants – some can be teased apart with your hands, while others can be levered apart with a pair of hand forks

Feed spring-flowering bulbs (daffodils/tulips/crocuses) with a slow-acting fertiliser. This will plump

them

up for better blooming next year.

Tackle weeds – chickweed, creeping buttercup, dandelions, daisies, thistles and many others will all be making a beeline for the border!

Look out for mildew and treat appropriately with a fungicide
Kitchen Garden
Plant out pot grown broad beans

Plant chitted potato tubers, starting with first earlies at the beginning and maincrop at the end of the month

Start formative pruning of cherry and plum trees, once leaf buds open

Sow vegetables direct, including carrots, lettuce, spring onions, peas, leeks, radish, turnip, beetroot and perpetual spinach

Towards the end of the month, plant tender vegetables like courgettes, squashes, pumpkins and French beans

Protect the blossom of trees like pears, if frost is in the forecast

Wildlife
Before trimming hedges, ensure birds are not nesting
If going on holiday, gradually reduce the amount of bird food you provide for your feathered friends, to avoid a sudden halt to their supply
Keep an eye out for hedgehogs and frogs when emptying compost or moving large piles of leaves, in case they are still hibernating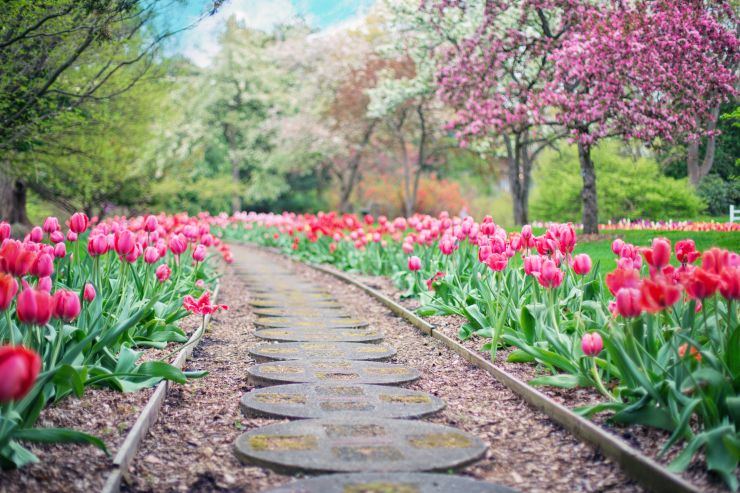 And, if you'd like to get out and about this spring, take a tip from The Telegraph's guide to The 50 Best Gardens to visit in Spring to soak up some inspiration. Wherever you are in the UK, there's a garden waiting to be discovered, choose from one of these:
1. Evenley Wood Garden, Northamptonshire
2. Knightshayes, Devon
3. Bodnant Garden, Conwy
4. Holker Hall, Cumbria
5. Killerton, Devon
6. Batsford Arboretum, Gloucestershire
7. Great Comp Garden, Kent
8. Pashley Manor, East Sussex
9. Sir Harold Hillier Gardens, Hampshire
10. Brockhampton Estate, Worcestershire
11. Greencombe Gardens, Somerset
12. Borde Hill Garden, West Sussex
13. Antony Woodland Garden, Cornwall
14. The Savill Gardens, Berkshire
15. Cragside, Northumberland
16. Exbury Gardens, Hampshire
18. Stourhead (National Trust), Wiltshire
19. Caerhays Castle, Cornwall
20. High Beeches Gardens, Sussex
21. West Dean, West Sussex
22. Packwood House, Warwickshire
23. Helmingham Hall, Suffolk
24. Tatton Park, Cheshire
25. Audley End, Essex
26. Hardcastle Crags, West Yorkshire
27. Foxley Wood, Norfolk
28. Bowdon Woods Nature Reserve, Berkshire
29. Gilfach Farm Nature Reserve, Powys
30. Sydenham Hill Wood, Southwark, London SE26
31. Cliveden, Berkshire
32. Rousham House and Garden, Oxfordshire
33. Alnwick Castle Garden, Northumberland
34. Wrest Park, Bedfordshire
35. Eltham Palace, London SE9
36. Penshurst Place, Kent
37. Wyken Hall, Suffolk
38. Doddington Place, Kent
39. St Paul's Walden Bury, Hertfordshire
40. Bowood House, Wiltshire
41. Coleton Fishacre, Devon
42. Cambo Country House and Estate, Fife
43. Ulting Wick, Essex
44. Stockton Bury Gardens, Herefordshire
45. Wentworth Castle, Yorkshire
46. Picton Castle, Pembrokeshire
47. Penjerrick Garden, Cornwall
48. Fairhaven Woodland and Water Garden, Norfolk
49. Lydney Park Gardens, Gloucestershire
50. Inverewe, Rossshire